Constable Stephen Carroll murder: three in court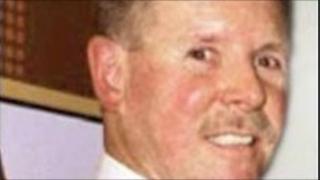 A former Sinn Fein councillor and a teenager have been arraigned before the Crown Court charged over the murder of Constable Stephen Carroll.
Brendan McConville, 39, of Aldervale, Tullygally, and John Paul Wootton, 19, of Collindale, Lurgan, deny the murder.
Constable Carroll, 48, was shot in the head on 9 March 2009 in Craigavon.
Mr Wootton's 38-year-old mother, Sharon Wootton of the same address, denied perverting the course of public justice between March and October 2009.
She is accused of giving police information which she knew to be false and by "removing a computer or computers from her home address believing her home address might be searched and the same computer or computers seized by the police".
The other two deny possessing an AK47 assault rifle and ammunition allegedly used in the shooting at Linsmore Manor.
The teenager also denies attempting to collect information on "a certain police constable" and his home address, likely to be of use to terrorists between January and March 2009.
The trio, who are expected to go on trial before a judge sitting without a jury in November, pleaded not guilty as the charges were put to them.
While the Belfast court released Mrs Wooton on continuing bail, her son and McConville were remanded back into custody.
Constable Carroll, a grandfather with over 24 years service with the police, was the first officer to be murdered since the changeover from the RUC to the PSNI.
His shooting, as he was responding to a 999 call near the end of his 12 hour shift, came just two days after dissident republicans murdered two soldiers outside Massareene Barracks in Antrim.