16,000 bottles of wine seized near Caledon, County Tyrone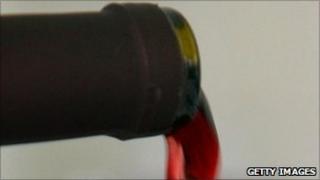 Sixteen thousand bottles of wine have been seized by Customs after being found at a remote area near Caledon in County Tyrone.
The seizure was made late last month at Kedew Road.
In an official notice, Customs have alleged the lorry-load was smuggled into NI without duty being paid.
The notice states that whoever owns the wine has a month to come forward if they believe it should not legally have been seized.
The breakdown of the haul is:
1,728 litres of Blossom Hill White
4,310 litres of Blossom Hill Red
2,160 litres of Blossom Hill Rose
1,170 litres of McGuigan Black Label Chardonnay
1,659 litres of Castillero Del Diablo White
580 litres of Castillero Del Diablo Red
450 litres of JP Chenet (no variety or grape specified.)