Killer driver back in custody for allegedly exposing himself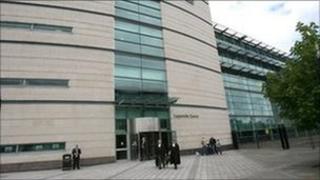 A man who killed his friend when he crashed a stolen car in 2006 has been remanded in custody after allegedly exposing himself.
Mark John Page appeared at Belfast Magistrates' Court on Saturday after an incident at a Citizen's Advice Bureau on Friday.
The 24-year-old from Avoca Street in north Belfast, was on probation after being jailed for eight years in 2008.
He crashed into a police landrover killing 22-year-old Darryl Faulkner.
Page had to be removed from court on Saturday after he continually accused the police and prison staff of "blackmail".
He had also been banned from driving for 15 years
No bail application was lodged with the court on Saturday. District judge Harry McKibben remanded Page into custody to appear again on 19 September.