Former Maze prison and Long Kesh holds public tour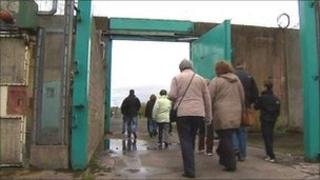 The first public tours of the site of the former Maze prison took place this weekend as part of heritage open days.
The controversial high-security prison was built to house paramilitary prisoners during the Troubles. Only one of the H-Blocks remains, alongside the prison Chapel and hospital wing.
Over 200 members of the public took the opportunity to visit the buildings.
A spokesperson said if the tours were a success and there could be scope for more in the future.
The prison, where 10 men died in the 1981 republican hunger strikes, closed in 2000.
Unionists and Nationalists have disagreed over what should become of the complex but it appears agreement about its future could be close.
Plans to build a multi-sports stadium on the site were rejected in 2009.
The new focus of the site is on conflict resolution, of building relationships and fostering a greater understanding.
The Royal Ulster Agricultural Society (RUAS), which runs the Balmoral show at the King's Hall in Belfast has also consistently said it would like to move the event to the Maze.