NI ministers arrive in Los Angeles for US visit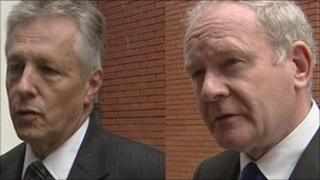 The Northern Ireland First and Deputy First Ministers have arrived in Los Angeles at the beginning of a five day investment mission to the US.
Peter Robinson and Martin McGuinness will meet representatives of the film industry on Monday.
They will hold meetings with companies in the entertainment, technology and financial sectors.
This will include talks with bosses from all five of Hollywood's major film studios.
Mr Robinson said: "Over the past few years Northern Ireland has developed an international reputation as a film location.
"Not only do we have some of Europe's best facilities, including the Paint Hall, but we have developed an excellent skills base that companies such as HBO and Universal have taken full advantage of.
"It is clear from the level of access we are being granted in Hollywood that our burgeoning reputation has not gone unnoticed.
"Locating their film or TV production in Northern Ireland could potentially make excellent business sense for many of these companies."
Mr McGuinness said productions such as Your Highness and Game of Thrones had put Northern Ireland "firmly on the world stage as a serious player in the film industry".
He said it was important that they used "success to create further opportunities".
"We have a good story to tell and we will be highlighting our proven track record in this field during our meetings with key Hollywood executives," he added.
"This success and new found confidence mirrors what is happening in wider society and the message from this visit is loud and clear - we are open for business and will give every support to those who wish to do business with us."
On Tuesday morning, the ministers will attend a digital media breakfast where they will speak with representatives from the computer games industry, digital media companies and post-production special effects teams.