Trust to review woman's death in burnt-out car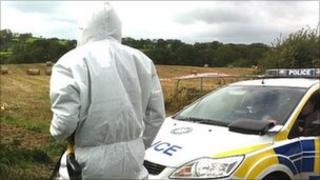 A health trust is to review the case of a former patient who was found dead in a burnt-out car.
The South East Health Trust offered its condolences to the family of the former patient and her husband who died alongside her.
The bodies of the married couple, in their 50s, were found in a field at Green Road, outside Ravernet, at about 22:00 BST on Sunday.
Police do not believe the deaths were suspicious.
The couple left their home in the Carnbane Road area at around 18:30 BST on Sunday. They drove the car to a nearby field and positioned it close to a ditch, well away from the road.
It was then that they appear to have used a gas cylinder to burn the vehicle while they sat in it.
A woman who lives nearby described seeing a blue flash and hearing an explosion at about 21:45 BST.
The emergency services rushed to the scene but it was too late.
The couple were well-known in the area. Paul Stewart, DUP, said: "The whole community around this area is not just shocked, but they are numb."
Police have appealed for information about the movements of couple in the time leading up to the report of the vehicle on fire.
It is understood the woman was receiving inpatient and outpatient psychiatric care from the South Eastern Trust.