NI house prices drop to November 2010 levels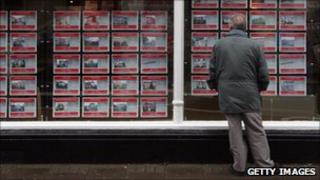 House prices in Northern Ireland fell last month to their lowest level since November, according to a survey by the Royal Institution of Chartered Surveyors.
High unemployment and budget cuts are to blame, according to the report by RICS and Ulster Bank.
The survey also found that transaction volumes remained static in August.
"Economic uncertainty and rising living costs still dominate the media," said RICS spokesman Tom McClelland.
"They are clearly having their bearing on the local housing market.
"With economic news the world over dramatically bad in August, there is little surprise that activity and sentiment in the housing market have been impacted."
The survey's price balance, stands at minus 51 - the lowest level since November 2010. This figure is calculated by deducting the number of chartered surveyors who say prices have dropped in the past three months from those who say prices have increased.
Derek Wilson, head of lending products at Ulster Bank, said that although prices have dropped, demand from first time buyers is still strong.