Man 'conned Dungannon pastor out of £300'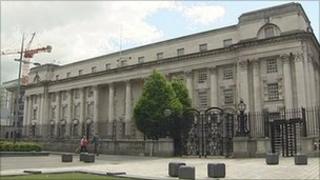 A man conned a pastor out of £300 by claiming he was a convicted murderer whose bail would be revoked if he did not get home to Scotland, the High Court has been told.
The man was arrested in County Tyrone two years later when the same clergyman spotted him making inquiries about other local churches, prosecutors said.
Gordon Ferguson, 52, of Asbury Court, Linwood, Paisley, denies a charge of fraud by false representation.
Mr Ferguson was refused bail.
A judge told the high court that whoever carried out the swindle was guilty of "a particularly cowardly and despicable act".
The court heard the alleged fraudster went into a church in Dungannon in November 2009 and asked for the pastor.
It was claimed that he told the clergyman he had been in prison for murder and if he did not get back to Scotland his bail would be revoked.
He allegedly requested £300, which was given to him after contact was made with a church trustee.
Crown counsel Kate McKay said the pastor then recognised Mr Ferguson in a cafe in the town last month as the man who had taken the money.
He was alleged to have been asking staff for the telephone numbers for other churches in the area.
"It was suspected that he was intending to carry out a similar fraud," Mrs McKay said.
Opposing bail, she added: "It seemed by the inquiries he was making he was setting up another target."
The court heard that he allegedly uses up to six aliases and two different dates of birth.
There is no suggestion that he was ever in prison for murder.
'Mistaken identity'
Mr Ferguson denied the allegations, telling police he had travelled to Dungannon to see his pregnant daughter after visiting his wife's grave in the Republic.
He claimed to be asking for details of churches because his daughter had been abandoned by the father of her child, the court heard.
Mr Ferguson denied meeting the pastor or being in Dungannon before and claimed it was a case of mistaken identity.
His barrister also said the accused's appearance had changed significantly due to weight loss from ill health.
Mr Justice McCloskey refused bail because of the risk of potential re-offending.
He added: "Ministers of religious congregations and members of such congregations must be protected by the courts.
"Members of such congregations are ordinary men and women of limited means who contribute generously out of their scarce resources to the congregations of which they are members."