Mark Haddock 'always decent to me' says Robert Stewart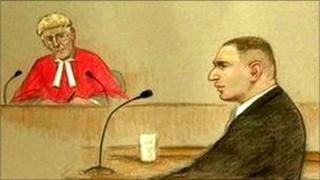 A witness in Belfast's supergrass trial has said the alleged leader of the UVF gang he is testifying against had "always been decent" to him.
At Belfast Crown Court, Robert Stewart, 37, also admitted telling lies in his original police statement.
He is giving evidence against alleged former UVF commander Mark Haddock and 13 other defendants.
At one point on Monday, the judge threatened to have Haddock thrown out of court after he swore at the witness.
After Mr Stewart started to repeat the reasons why there were discrepancies in his evidence, Haddock shouted a four letter word at him before adding "change the record".
Mr Justice Gillen said he would not tolerate any more interruptions, warning that "if you speak out of turn again, you will be held outside the court",
Haddock and eight of the other accused are charged with the murder of UDA man Tommy English in October 2000.
On the fourth day of the trial, Frank O'Donoghue, QC for the defence, again cross-examined Mr Stewart.
The barrister pointed out what he said were discrepancies between what Mr Stewart said in police interviews after handing himself in and agreeing to give Queen's evidence, what he had said in court and what other witnesses had said, particularly about the hijacking of a taxi.
At one point, Mr O'Donoghue said to Mr Stewart: "Did you just want to put Mark Haddock down?"
Mr Stewart replied: "Why would I want to put Mr Haddock down? To be fair, he was always pretty decent to me. I'm not here to put anyone down."
He also denied that he had agreed evidence with his brother and with others so they could get their stories straight.
"I have explained it a hundred times - Mark Haddock was in overall command and every order came from him," Mr Stewart said.
"I am not picking his name out of a hat. He wanted Tommy English dead."
Towards the end of the morning, Mr Stewart said to Mr O'Donoghue: "In my opinion you're clutching at straws. You've got nothing and this is the best you can do."
Later, reading from the statement of Tommy English's wife Doreen, Mr O'Donoghue said she described one gunman as being around "6ft tall, broad shoulders, clean shaven, crew cut hair, full lips".
"Is that you," he asked Mr Stewart, who replied: "No."
Mr Haddock's defence counsel is just the first of many who have the right to cross examine Mr Stewart.
He has taken almost three days in court so far, and has still not finished.
Mr English was shot dead in front of his wife at his home in the Ballyduff estate in Newtownabbey, during a feud between the UDA and the UVF.
Both the UVF (Ulster Volunteer Force) and UDA (Ulster Defence Association) are loyalist paramilitary groups responsible for the murder of hundreds of people during the Troubles.
The trial is the biggest and most expensive to be held in Northern Ireland for many years.
The 14 defendants are being represented by 24 barristers and eight firms of solicitors and the trial is expected to last for 11 weeks.
The term supergrass was first used in Northern Ireland in the 1980s when a number of terrorist suspects were convicted on the evidence of former comrades.