Martin McGuinness' Irish round tower for sale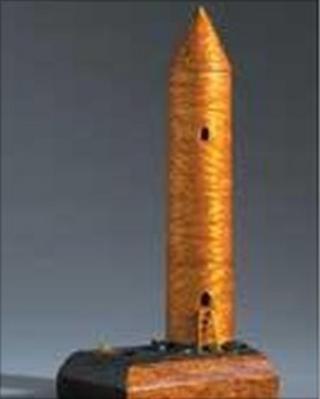 A Dublin auction house is selling a little piece of history fashioned by deputy first minister Martin McGuinness.
It is an Irish round tower made entirely from matchsticks.
Mr McGuinness made it while he was a prisoner in Portlaoise Jail in the Republic of Ireland.
It was given to a friend, Father Jimmy Shiels. Now, lot 505 is to go under the hammer at Whytes Molesworth Street gallery on Saturday 24 September.
It is expected to fetch between 1,000 and 1,500 euros.
Other memorabilia from the Troubles includes a handkerchief from Long Kesh - the old Maze prison which housed the H blocks.
The cloth has been signed by 66 prisoners - among the names are those of Gerry Adams and Alex Maskey. It is expected fetch between 300 and 500 euros.
Loyalist memorabilia will also be on sale.
In the run-up to the 99th anniversary of the signing of the Ulster Covenant, a wooden baton is up for sale.
Lot 210m which is worth an estimated 1,500-2,000 euros belonged to Colonel Fred Crawford, who, along with 2,500 members of the Unionist Clubs of Ireland, defended the grounds of Belfast City Hall during the signing of the covenant.
Colonel Crawford commissioned the baton for the occasion. He later became the organiser of gun running for the Ulster Volunteer Force prior to World War I when large numbers of Italian Vetterli-Vitali rifles were imported like the one on offer at the auction for 800-1,000 euros.