Firefighters tackle Ballymoney fire for five hours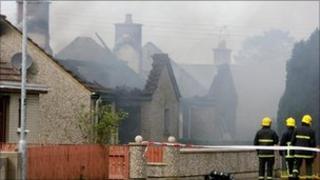 A man and a woman were treated in hospital after a fire destroyed two bungalows, workshops, a car and caravan in County Antrim.
Firefighters worked for five hours to tackle the blaze that broke out at Grove Park, Balnamore, Ballymoney, on Monday afternoon.
The flames were fanned by high winds and a number of gas cylinders blew up.
A woman was rescued from the fire and a man was found close to it. Both were treated for smoke inhalation.
Neighbours were forced to leave their homes over fears that the fire could spread further in the gale force winds.
Five fire engines and a water tanker attended the scene.