Denis Donaldson murder: Dissident Gary Donnelly released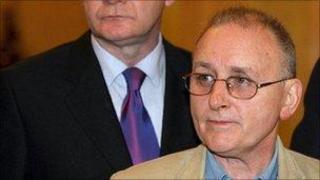 A leading dissident republican arrested by Irish police in connection with the murder of Denis Donaldson has been released without charge.
Gary Donnelly, who is in his 40s and from Londonderry, was arrested in County Monaghan on Saturday.
Mr Donaldson, a former senior Sinn Fein official, was shot at a remote cottage in County Donegal in April 2006.
Four months earlier he had been expelled from the party after admitting being a paid British spy for 20 years.