Newspaper review: NI and Republic of Ireland stories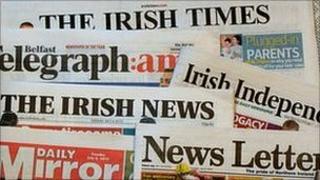 With a look at Tuesday's newspapers, journalist Fionola Meredith.
The Irish News leads with a fresh call for an end to clerical celibacy. It comes from retired Bishop of Londonderry, Dr Edward Daly.
The senior cleric says there should be a place in the modern church for a married priesthood - and the paper believes that many ordinary catholics will strongly agree with him.
Elsewhere, it's all about the stormy weather.
Cars swamped by waves, trees blocking roads, boats battered by the storm - plenty of dramatic pictures from around the country. The Belfast Telegraph says that it was a day of chaos caused by the tropical storm that refused to die.
The News Letter reports that students from Great Britain are to be charged thousands of pounds more than students from the Republic to study at Northern Ireland universities - a move that Ulster Unionists consider potentially damaging to the Union.
The Times reports on a suspect slavery ring.
The paper claims that more than 100 people are believed to have been held prisoner across the UK. It says that the full scale of the suspected slavery ring targeting homeless and vulnerable men is only now emerging.
Police believe that a network of Irish Travellers is behind an organised crime operation to kidnap or recruit homeless Britons or Eastern Europeans over the past two decades, forcing them into unpaid work and holding them in squalid conditions on starvation rations.
The Mirror, which claims an exclusive for its report, has a different take on the story. It says that some of the alleged victims have denied the claims of abuse, claiming they were happy to be working at the Travellers' site.
The Independent reports that Travellers groups have expressed concerns that the arrests, carried out in front of television cameras, will lead to a backlash against their community.
David Walliams appears on several front pages after his successful charity swim of the River Thames.
As the Times notes, he was attacked by swans, nibbled by water fleas and laid low with stomach problems caused by the polluted water, but the comedian did manage to swim the full 140 mile length of the River Thames, raising £1m for charity in the process.
Commentator Matthew Parris, who did a mile long swim across the river last year, is impressed. Parris said that when he climbed out afterwards, his legs were shaking and his sagging underpants were filled with mud.
He considers Walliams a brave man, and himself merely foolhardy.
And finally, several papers report on the unexpected side-effects of becoming a father.
As the Independent notes, having children is not only bad for your sleep and the family budget - it also saps testosterone levels in new fathers, according to a study which suggest men are genetically programmed for fatherhood, biologically wired to help raise children.
Testosterone, the male sex hormone, is associated with muscle bulk and hair distribution.
The Guardian sums it all up in its headline - "being a dad makes you less of a man".