Danny Kennedy scraps plan for on-street parking charges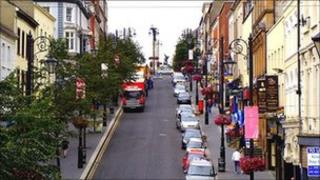 On-street parking charges for 30 towns and cities across Northern Ireland will not go ahead, according to the regional development minister.
Danny Kennedy said on Tuesday that he would not be proceeding with the plan.
He said he did not feel the timing was right because of the "tough economic climate" that businesses were operating in.
The minister now has an £8.8m hole in his budget because of the projected revenue lost from on-street parking.
He said this would have to be plugged by making cuts in other areas.
"Given the pressures in all areas of my budget, this is a very difficult task," he added.
"However, I am determined to minimise, as far as possible, the impact on frontline services in my department."
Right decision
Mr Kennedy said he would offset the shortfall by £2m by creating greater efficiency within his department.
A further £2m would be saved by reducing the operation expenditures of the Roads Service.
He said £2.1m would come from off-street parking charges in provincial towns, and on-street charges in some cities, and £2.7m would be collected from a reduction in the subsidy paid to Translink.
Former DRD minister Conor Murphy put forward the plan to bring in parking charges in towns across Northern Ireland during the last assembly.
Thirty towns would have had to start paying for parking for the first time.
Currently only three cities in Northern Ireland have on-street parking charges - Newry, Lisburn and Belfast.
"I recognise that on-street charging can provide vital traffic management improvements in certain circumstances," said Mr Kennedy.
"This decision does not close the door on schemes where all stakeholders can agree that this is right for an individual city or town; as was the case in Lisburn and Newry in 2008.
"I hope traders across Northern Ireland will welcome the decision I have taken today."