UVF Supergrass case: Robert Stewart 'got deal of the century'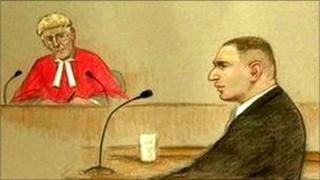 A witness in Belfast's supergrass trial has denied he got what a lawyer described as the "deal of the century" in return for giving evidence against alleged members of a UVF gang.
The claim was put to Robert Stewart, 37, by a lawyer for alleged former UVF commander Mark Haddock.
Mr Stewart served two years and 10 months for aiding and abetting in the murder of UDA leader Tommy English.
He said he wished he had had nothing to do with the murder.
Mr Stewart said the decision to release him was "down to the judge and the (Parole) Commissioners".
On the fifth day of the trial, Haddock's lawyer Frank O'Donoghue QC asked Mr Stewart if he was full of remorse for his part in the murder and the other offences with which he was charged.
Mr Stewart replied: "Yes, I wouldn't be sitting here if I wasn't."
The lawyer said: "You haven't shown much of it in the past four days."
Mr Stewart said he wished he had had nothing to do with Mr English's murder in October 2000 and said he could not have killed someone in front of their children.
Belfast Crown Court heard that Mr Stewart told police he was as "sick as a pig" when one of the accused Ronald Bowe said he wanted Mr English's murder to be over so that he could go home for a kebab.
The witness also denied telling lies in his evidence out of spite and said he was not trying to diminish his role in the murder of Mr English.
Mr English was shot dead in front of his wife at his home in the Ballyduff estate in Newtownabbey, during a feud between the UDA and the UVF.
Both the UVF (Ulster Volunteer Force) and UDA (Ulster Defence Association) are loyalist paramilitary groups responsible for the murder of hundreds of people during the Troubles.
The trial is the biggest and most expensive to be held in Northern Ireland for many years.
The 14 defendants are being represented by 24 barristers and eight firms of solicitors and the trial is expected to last for 11 weeks.
The term supergrass was first used in Northern Ireland in the 1980s when a number of terrorist suspects were convicted on the evidence of former comrades.