Kilroot power station firm AES posts £50m pre-tax profit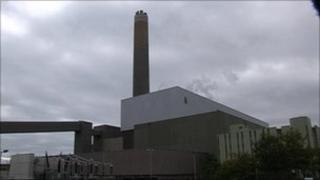 The company which operates Kilroot power station in County Antrim has reported an increase in its annual pre-tax profit to £50m.
The details are contained in the 2010 accounts of AES (NI).
In 2009, the firm made £21m, however in that year profits were affected by a one-off impairment charge of nearly £22m.
AES bought Ballylumford power station last year, though its performance is not included in these accounts.
The purchase of Ballylumford made AES the largest energy producer in Northern Ireland, with around 15% of the market.
The ultimate owner of the firm is the AES Corporation which is based in Virginia in the United States.
AES (NI) paid its parent company a dividend of £17m in 2010, up from £13m in 2009.
Turnover was £156m, compared to £131m in 2009. The company employs about 140 people and pays salaries of around £6m.