8m cigarettes are seized at Dublin port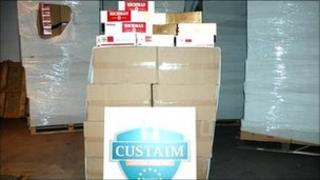 Eight million cigarettes worth 3.1m euros, which were seized at Dublin port on Monday, are believed to have been on the way to Northern Ireland.
The illegal consignment arrived at the port from Spain in a 40ft maritime container declared as "paper products".
A Northern Ireland based haulier had been contracted to collect the container. Customs seized that vehicle and trailer, both NI registered.
The cigarettes are the Regal, Richman and Hoop brands.
Irish Customs - who made the seizure - said it would have meant a potential loss to the exchequer of 2.5m euros.
They added that investigations were ongoing both nationally and internationally.
Eighty-seven million cigarettes, with a retail value of 33.2m euros, have been seized so far this year in the Republic.