Anglesey airport cocaine smuggler Andrew Watson jailed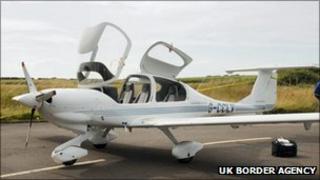 The son of a pilot who was jailed in May for smuggling cocaine through an Anglesey airport has now been sentenced for his part in the £3.5m operation.
Andrew Watson was jailed for 12 years after admitting conspiracy to import a class A drug at Liverpool Crown Court.
His father David Watson of Prestwich, Greater Manchester was jailed for 20 years after being found guilty of conspiracy to smuggle cocaine.
Three other men were previously jailed over the smuggling.
Andrew Watson, who was based in Spain, was described by the UK Border Agency after the sentencing as "a principal player" in the conspiracy to smuggle 14 kilos of cocaine through Mona Airfield.
It said that he was responsible for sourcing the drugs in Spain and arranging for their transport to France.
His father and other members of the gang were caught by North Wales Police in July 2009, who met the light aircraft and carried out a search of the plane and found a stash of cocaine.
'Key players'
It had flown in from the French resort of Le Touquet.
Jim Jarvie, deputy director at the UK Border Agency's Crime Directorate, said: "This was clearly a significant smuggling operation, worth millions of pounds to the people involved.
"They clearly thought that arriving at a small airfield would ensure they were able to by-pass law enforcement controls. This was not the case.
"The cocaine was destined for the north west of England. Together with the police, the UK Border Agency has made sure that these drugs have not reached the streets and the key players brought to account."
Michael Cahillane, 45, of Stanley Road, Stockport, was previously sentenced to 16 years after admitting conspiracy to smuggle.
Richard McArthur, 45, of Barn Mills, Carrickfergus, Belfast, Northern Ireland was previously sentenced to six years after admitting smuggling cannabis.
Matthew Lockwood, 30, of Leach Mews, Prestwich, Greater Manchester, was sentenced to six years after pleading guilty to conspiracy to smuggle cocaine.