Edwin Poots saddened by Ravernet couple's deaths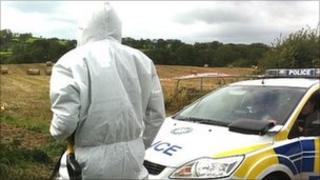 Health Minister Edwin Poots has expressed his sympathies to the family of a couple found dead near Ravernet at the weekend.
The bodies of Phyllis and Cyril Gardner, in their 50s, were found in their car at a field on Green Road near the village on Sunday.
It is understood Mrs Gardner had been receiving psychiatric care from the South Eastern Trust.
The health trust said it would be reviewing her case.
Mr Poots said: "This a terrible tragedy which has left their community reeling.
"Like many people in the Hillsborough area, my family and I knew Mr and Mrs Gardner and news of their deaths has saddened us deeply.
"I want to offer my condolences to their two daughters and to their extended family who are no doubt grieving at this time."
The bodies of the couple were found at about 22:00 BST on Sunday.
Police do not believe the deaths were suspicious.
The couple left their home in the Carnbane Road area at around 18:30 BST on Sunday. They drove the car to a nearby field and positioned it close to a ditch, well away from the road.
It was then that they appear to have used a gas cylinder to burn the vehicle while they sat in it.
A woman who lives nearby described seeing a blue flash and hearing an explosion at about 21:45 BST.
The emergency services rushed to the scene but it was too late.