Gerry Collins says IRA could have made up Garda mole rumours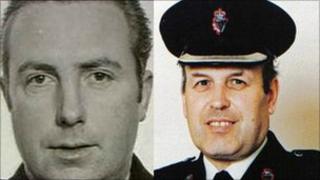 A former Irish justice minister has said he would not be surprised if the IRA was behind rumours a Garda mole had helped them murder two RUC men.
Gerry Collins was testifying at the Smithwick Tribunal which is looking into claims of collusion in the murders of Harry Breen and Bob Buchanan.
Mr Collins said the allegations would have been seriously embarrassing if proved true.
However, he said they had never been established as fact.
Chief Superintendent Breen and Superintendent Buchanan were shot dead in an IRA ambush near Jonesborough, south Armagh, shortly after leaving a meeting at Dundalk Garda station.
Mr Collins, a Fianna Fail minister at the time of the murders in March 1989, said had the RUC believed a mole existed, the matter would have been raised at police commissioner and ministerial level, but it never was.
He also said the IRA had led a propaganda war and it would not have surprised him had they planted the mole rumours to create "dreadful morale problems" for the Garda.
Three former Irish police officers are being investigated by the tribunal as possibly having tipped off the IRA about the victims' movements.
The RUC officers were the most senior to be murdered during the Troubles.