Alex Attwood proposing cut in drink drive limit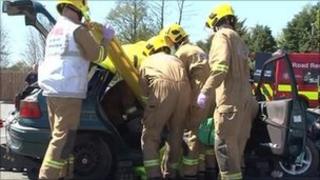 Reducing the drink drive limit and increasing the speed limit for learners and 'R' drivers will be among proposals discussed at a road safety forum later.
Environment Minister Alex Attwood has arranged the forum to highlight initiatives he wants to introduce to reduce road accidents.
The emergency services and other organisations with an interest in road safety will take part.
Mr Attwood said more had to be done to cut road deaths.
"The main issues to be tackled are impairment, carelessness and speed," he said.
"I am finalising plans for major new initiatives which will include reducing the drink drive limit and increasing the 45 mph speed restriction on learner and restricted drivers.
"I want to see new drivers being fit to drive at speeds used by fellow road users."
Another of Mr Attwood's proposals is that penalty points for offences committed north and south of the Irish border be mutually recognised.
He said he had been working with his counterpart in Dublin, Leo Varadkar, to address road safety issues across the island.
Professor Stephen Glaister, director of the RAC Foundation, welcomed the proposals.
"Overall we support these changes. Making young drivers stick to 45mph ignores the reality on the roads.
"Earlier this year the Westminster government decided not to reduce the drink drive limit even though an independent report commissioned by ministers said it should be done to cut deaths and bring us in line with much of Europe."