Frenemies... MLA Jim Allister 'not desperate for friends'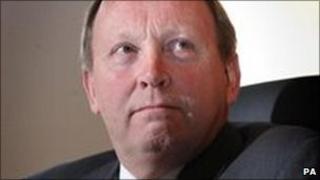 Jim Allister may be a lone MLA for the Traditional Unionist Voice - but he is not desperate for friends at Stormont.
When Culture Minister Caral Ni Chuilin told the chamber, whimsically, that she and Mr Allister were "firm friends," he accused her of misleading the house.
Mr Allister had just challenged the minister about the "appalling failure of financial management in relation to Irish language bodies".
He complained they had not published accounts between 2007 and 2011.
These bodies he said were "useless and non-productive" and wondered whether she thought this kind of financial management undermined public confidence.
The Sinn Fein minister responded to his anger with humour.
She suggested she had detected a statement rather than a question, before adding: "If the member wants to write to me I'm happy to answer his question. He actually writes a lot to me every day. Jim and I have become firm friends."
Mr Allister appealed to the speaker asking if it was in order for "a minister to mislead the house."
The TUV leader protested that he consistently writes to the permanent secretary of the department and not the minister.
But the speaker called order and took the minister's part.
"Order!" said Willie Hay pointing out the seriousness of accusing a minister of misleading the assembly. "I warn the member!"
Mr Allister took his protest to the media with a press statement insisting that the minister's claims that he writes daily and that they are "firm friends" is an "outrageous lie".
Using the English translation of her name, he said. "I have never written to Cullen. When I have to contact a government department controlled by Sinn Fein/IRA I correspond with the permanent secretary, not the minister."
"All republican ministers know this and it has caused them considerable annoyance in the past as they know it implies that I see them as unfit for office."
Mr Allister has also claimed that the reaction of the speaker was "inappropriate."
"He accused me of using unparliamentary language without bothering to check if my claim that the minister had misled the house was correct.
"I will be writing to the speaker asking him why he precipitately ruled as he did and asking to investigate if my comments were accurate or not."