New fees 'could price veterinary students out of market'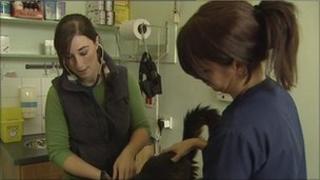 While local students are delighted at the freeze on university fees, one group is feeling hard done by.
It is not possible to study veterinary medicine in Northern Ireland.
Apart from a few who get places in Dublin, NI students have to go to Britain where they now face total costs of over £80,000.
The North of Ireland Veterinary Association fears that will price young people out of the profession. It wants minister Stephen Farry to intervene.
Cahir McAuley is a young vet working in a farming and small animal practice in Antrim.
He said the introduction of higher fees was particularly tough on veterinary students as their course of study means they have little opportunity to earn money though part-time work.
"You are in from 9am to 5pm pretty much every day and you have a lot of extra studying to do after the day's lectures," he said.
Veterinary students also point out that they are kept busy learning practical skills during holiday times when other students are free to earn money.
The increase in fees means that after five years studying, a typical veterinary student will have paid £45,000 in tuition fees.
Add to that living expenses of £7,000 a year and the total works out at £80,000.
Young women like Hazel McClelland now represent the majority of newly qualified vets. The prospect of repaying an £80,000 debt while beginning a career, she believes, may prove discouraging for prospective veterinary students.
"With the tuition fees as they are at the moment it is difficult enough to start your career and start home life as well," she said.
While some veterinary students may get places in Dublin, for most there is no escape from the £9,000 per annum fees now being charged by vet schools in Glasgow, Edinburgh, Nottingham, Bristol, London, Liverpool and Cambridge.
The Department for Employment and Learning is offering tuition fee loans as well as a living cost entitlement, but the veterinary profession said its students needed more help from government.
President of the North of Ireland Veterinary Association David Torrens said their first concern was that students would not go to the veterinary profession.
Secondly they fear that if they do go, they will not be able to afford to come back to work in Northern Ireland where salaries tend to be lower.
The Veterinary Association is now calling on Employment and Learning Minister Mr Farry to help what they claim is a group of students facing a unique situation.
The association said Wales was promising financial assistance to its students who find themselves facing a similar situation.
With the department budget already stretched, finding additional money to help veterinary students represents yet another dilemma for the minister and the executive.