Alex Attwood reluctant to comment on leadership battle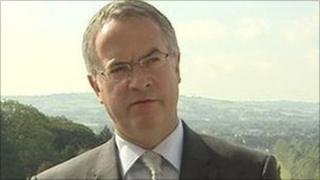 SDLP assembly member Alex Attwood has said whoever is elected leader of his party with have his "full support".
But the environment minister would not be drawn when asked if he would run for the leadership.
After months of pressure, Margaret Ritchie announced last week that she intended to step down.
The current deputy leader Patsy McGlone is so far the only party member who has confirmed he will run for the leadership.
South Belfast MP Alasdair McDonnell has not yet confirmed he will enter the race but did run against Ms Ritchie when she was elected two years ago.
Mr Attwood had previously backed Ms Ritchie's leadership when she had initially been challenged by Mr McGlone.
When asked on Radio Ulster, he refused to speculate on who will succeed Ms Ritchie.
"I will not contribute to any speculation about who might or who might not run," said the SDLP MLA.
"I would ask the media not to reduce the leadership question in the SDLP to narrow questions about who gets what post.
"And to recognise that the SDLP discussion about leadership is about how over the next forty years the values that have served the people of this island so well, can continue to serve the people so well."
Mr Attwood said it was an "utter irrelevance" whether he maintained his role of environment minister under the new leader.
"I believe in loyalty to the leader, whoever that might be," he said.
"That you don't allow your leader to become isolated. Whoever the leader is in future, they will have my loyalty because that's what I proved with Margaret, with Mark Durkan and John Hume before."
The deadline for nominations for the leadership is 17:00 BST on Friday.