Northern Ireland unemployment rate rises again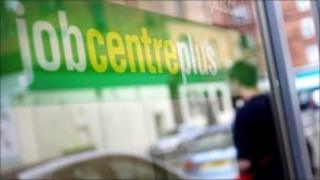 Unemployment has risen once again in Northern Ireland, climbing to 7.4% in the latest figures released on Wednesday.
The rate here remains below the UK average of 7.9%, with the number of people claiming benefits up by 100 to 60,400.
However, Northern Ireland saw the lowest percentage increase in claimants across the UK.
The total number of people unemployed in the UK has risen to 2.51 million.
Over the past year the number of people claiming unemployment related benefit in Northern Ireland has increased by 2,900, which was again lower than the UK annual increase.
While the overall unemployment figure is 7.4%, the rate among young people, aged 18 to 24, is much higher at 18%.
One leading economist warned that although unemployment is continuing to grow, we can expect it to get even higher in the coming year.
Angela McGowan, Northern Bank chief economist said: "The fact that wages have remained static when inflation has risen has allowed employers to keep unit labour costs low and thereby hold on to employees in this difficult time.
"However, with domestic demand currently sitting at such low levels and the public sector freezing recruitment, the labour market will undoubtedly feel the strain during the next 12 months."