£12.85m road scheme for Enniskillen announced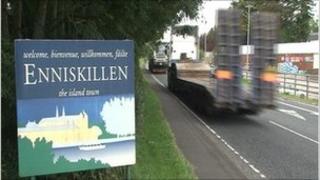 Regional Development Minister Danny Kennedy has announced a £12.85m roads scheme for Enniskillen.
Mr Kennedy said work on the A32 Cherrymount Link Road would begin on 26 September and should be completed by spring 2013.
He said the scheme would provide a new strategic link to the east of Enniskillen.
Mr Kennedy said it would relieve traffic congestion in the town, reduce delays and improve road safety.
"Construction of the new link road is also timely in that it will also improve access to and from the new South West Acute Hospital in the town, currently under construction," he added.
A £5.46m contract for construction of the new link road has been awarded to a joint venture between PT McWilliams and McLaughlin & Harvey.
Mr Kennedy outlined the details of the new roads scheme.
"The scheme comprises of two kilometres of proposed new trunk road, connecting the existing Cherrymount roundabout on the A32 on the north of the town, to the B80 Tempo Road, on the southeast of the town," he said.
"The first 600 metres leading from Cherrymount roundabout utilises the existing carriageway, with local widening being carried out over this stretch.
"The remaining 1400 metres provides a new link to the existing Tempo Road adjacent to Burrendale with new roundabouts at its junction with Lawnakilla Way and Lower Chanterhill/Coa Roads."