RIR homecoming parade switch 'disrespectful'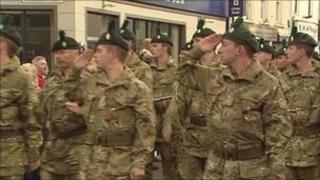 DUP MP Jeffrey Donaldson has said those opposed to a homecoming parade in Belfast city centre for soldiers back from Afghanistan "lack tolerance".
The Irish Guards and Royal Irish Regiment will now take part in a ceremony at the Royal Ulster Agricultural Showgrounds in October.
But SDLP MLA Alban Maginnis called the event at Balmoral a "good compromise".
The Ministry of Defence turned down an initial offer from Belfast City Council for parade through the city.
The council's decision in April to approve the homecoming parade was opposed by both the SDLP and Sinn Fein.
But the offer was not accepted, with the MoD citing "post-operational duties".
Up to 3,500 members of the public are expected to attend the review and service in the grounds of the King's Hall with hundreds of soldiers from the two regiments due to take part.
There were protests at a previous parade in 2008.
Mr Donaldson called for more understanding of an event designed to commemorate the bravery of British troops in Afghanistan.
He said they should have been allowed to parade through Belfast city centre.
"I think it is unfortunate that there are people in our society who lack the tolerance and respect for others," he said.
"Really, if we are going to build a shared society in Northern Ireland we need to move to a place where people can have that tolerance and respect."
But Mr Maginnis said the decision to have the event at Balmoral was a "good compromise" and that a city centre parade was too contentious.
"The problem is we have a divided community, we have different views of the British Army, we have different histories and to have a parade through the city centre, as we know the last time, simply raises community tensions," he said.
"It causes a public order problem for the PSNI and really we should avoid that type of situation."
"Meaningful event"
The Balomoral event will include the presentation of commemorative medallions to military personnel by Belfast's deputy Lord Mayor, Alderman Ruth Patterson.
A MoD spokesman said: "This is a very respectful and meaningful event being hosted by Belfast City Council to recognise the valour and service of personnel from the Irish Guards and the Royal Irish Regiment on operations overseas.
"We have been in discussions and planning with Belfast City Council and this event is now possible through the good offices of Belfast and the availability of personnel at an appropriate time in their busy schedules."
Priority in allocating tickets for the Balmoral event on 7 October will be given to Belfast residents.
The Irish Guards and RIR served together as part of 16 Air Assault Brigade in Afghanistan.
More than 1,500 members of the Royal Irish Regiment returned from a tour of Afghanistan in April.
Three soldiers from the 1st Battalion, Royal Irish Regiment, were killed during the operation, which began last September.
Ranger Aaron McCormick, 22, from Macosquin in County Londonderry was killed by an improvised explosive device (IED) in November last year.
Ranger David Dalzell, 20, from Bangor was shot in February. The exact circumstances of his death have not yet been confirmed.
Lance Corporal Stephen McKee, 27, from Banbridge, was killed by an IED in March.‪