UVF supergrass case: Robert Stewart asked about 160 crimes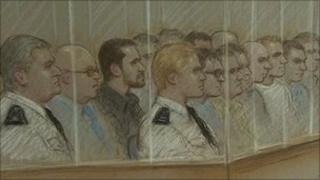 A witness in Belfast's supergrass trial has been questioned about the 160 other crimes he admitted taking part in.
Robert Stewart is testifying against 14 men, including alleged former north Belfast UVF commander Mark Haddock.
In court on Wednesday, Haddock's lawyer asked Mr Stewart if he suffered "any pangs of remorse" about his crimes.
"I feel remorse for everything I have done in my life... I would not be sitting here listening to you if I wasn't," Mr Stewart replied.
Mr Stewart claimed he and his brother Ian, who has still to give evidence in the Belfast Crown Court trial, only went to police out of remorse for his involvement in the murder of UDA man Tommy English.
He blamed his membership of the UVF for his crimes, which included robberies and beatings.
The two brothers got reduced sentences after admitting their crimes to police and agreeing to testify against other alleged members of the UVF gang.
Earlier, Mr Stewart, who has been in the witness box for seven days, complained that the defence questioning was becoming "a bit repetitive" and that he had already explained things, particularly his lapses of memory, "over and over and over".
Trial judge Mr Justice Gillen, told Mr Stewart he had to answer any proper questions put to him.
However, at one stage the judge did question defence barrister Frank O'Donoghue over a part of his cross-examination.
Telling the lawyer he had spent over a quarter of an hour on a matter he had already questioned Mr Stewart about last week, the judge asked how such questioning was going to help him when it comes for him to deliberate on the case.
At one point during proceedings Mr Stewart said to Mr O'Donoghue: "Im not a machine, you may think I am, but I'm not a machine".
The lawyer asked Mr Stewart about his recollection of events, and questioned whether or not his memory had been "befuddled by drugs".
Mr Stewart replied: "The next thing you are going to say to me is that these incidents didn't even happen."
Mr English was shot dead in front of his wife at his home in the Ballyduff estate in Newtownabbey on Halloween night in 2000, during a feud between the UDA and the UVF.
Both the UVF (Ulster Volunteer Force) and UDA (Ulster Defence Association) are loyalist paramilitary groups responsible for the murder of hundreds of people during the Troubles.
The trial is the biggest and most expensive to be held in Northern Ireland for many years.
The 14 defendants are being represented by 24 barristers and eight firms of solicitors and the trial is expected to last for 11 weeks.
The term supergrass was first used in Northern Ireland in the 1980s when a number of terrorist suspects were convicted on the evidence of former comrades.