Nigerian passport fraudster jailed for nine months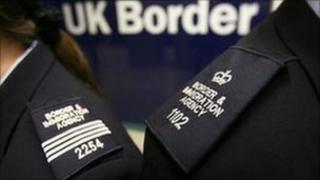 A 32-year-old Nigerian man who had been living in Northern Ireland after entering the UK on a false passport has been jailed for nine months.
Collins Kola Ayoola pleaded guilty to fraud at Downpatrick Crown Court on Wednesday.
He was living in Belfast when UK Border Agency officers arrested him in 2009.
Ayoola was held for using a false passport to obtain an electoral card, open a number of bank accounts and register a business.
He was sentenced to nine months for three counts of possession of false identity cards, namely a false Nigerian passport, possession of false documents and seeking leave to remain in the UK by deception.
Earl Aiken, senior investigator for the UK Border Agency in Northern Ireland, said: "The UK Border Agency is intensifying enforcement activity to tackle immigration crime and bring individuals to justice.
"We are determined to create a hostile environment which makes it harder than ever for illegal immigrants to come to the UK and put down roots.
"We hope this sentence will send the message that we will find and prosecute anyone who attempts to commit this type of fraud."