Man 'had part of ear sliced off' in Lisburn attack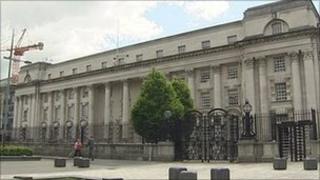 A man was imprisoned and had part of his ear sliced off during a "sadistic" suspected revenge attack, the High Court has been told.
He was allegedly beaten along with another man after they were invited into a house in Lisburn for drinks.
Gary Bain, 23, of Chamberlain Street, Belfast, denies charges of false imprisonment, grievous bodily harm with intent and an assault on police.
He was refused bail on the grounds of ensuring protection to the public.
Mr Bain is alleged to have been among men who lured two victims to a house at Tonagh Drive, Lisburn on 8 August.
Prosecutors said up to four men were involved in attacking the men, which also involved two of the victim's front teeth being knocked out and allegedly wrapped in tissue.
A crown lawyer claimed one assailant said at the time he was keeping them as a souvenir.
One of the suspects was later arrested for allegedly stamping on the head of a man in a separate attack in south Belfast.
Crown counsel Nicola Auret said the Lisburn attack was believed to be a revenge attack for an assault on Mr Bain's brother a day earlier.
Both men were punched about the head and body, with one trailed up into a bedroom and held down, the court heard.
Part of his ear was cut off during the attack.
Injuries inflicted on the second man included haemorrhaging to his eye.
'Head kicked like football'
Ms Auret said Mr Bain was arrested on 11 September after he allegedly attacked a man at Bradbury Place in Belfast.
Witnesses claimed the victim was knocked to the ground and kicked about the head "like a football", the court was told.
It was claimed that between the two incidents Mr Bain travelled to Scotland.
He was traced to Stranraer, but had gone by the time a PSNI officer went over to arrest him, according to the prosecution.
A defence barrister said Mr Bain claimed he was not at the house in Lisburn when the first attack happened.
"He would deny any involvement whatsoever and would believe these allegations are being mounted because there is a connection with himself and his brother," the lawyer said.
Mr Bain also rejected claims of kicking or stamping on the man at Bradbury Place.
But refusing bail, Mr Justice Treacy said that on the basis of prima facie evidence he was allegedly involved in "pre-planned, gratuitous and sadistic violence".