More parents pay to get children private transfer tutoring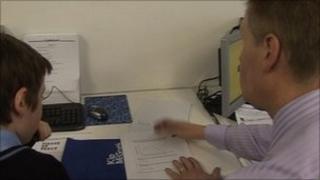 On Thursday afternoons, after school, primary pupil John McDonald travels to the Kip McGrath Centre in Lisburn.
There he gets another 80 minutes of tuition in preparation for the transfer tests he's due to sit in November.
He'll do both the AQE and GL tests, that's five papers in all.
His mother, Ann, said he needed a little help with his maths and the £26 per session she pays is a small price to ensure he gets the chance of a grammar school education.
"You do hear of other mummies that have put their kids through tutoring, so I felt I had to help him raise his marks and give him the best opportunity of doing well in the exams," she said.
Martin Rimmer runs the Kip McGrath Centre in Lisburn.
He said the numbers coming to him for transfer tuition have gone up since the old test was abolished by the then education minister Martin McGuinness.
The children benefit from extra tuition in small groups, and in particular the work he does to familiarise them with the technique for the tests, he says.
"A lot of parents have said to me that they've tried helping their children at home and it has become quite stressful, maybe there are distractions at home or the method they're using is in conflict with what the teacher says," he said.
"They come to us, we do an initial assessment in maths and English and identify those areas they're struggling with and using that information we put a programme together for them."
Black economy
The Kip McGrath Centre is a city centre premises properly regulated which advertises its services and which pays its taxes.
But a lot of transfer tuition is done on the basis of the black economy, with serving and former teachers helping children for a cash payment.
The prices can vary from place to place, depending on whether children are taught separately or in groups.
BBC Newsline carried out a straw poll and found people charging anything from £15 to £20 an hour for tuition.
The internet is the place where many choose to advertise, but the lack of regulation means virtually anyone can offer to help.
We found one A level student who was offering to tutor transfer children for £10 an hour. They'd had some interest in the ad.
Ronnie Hassard, the principal of Ballymena Academy, is a spokesman for the grammar schools which run the GL entrance tests.
He said he was worried about the lack of regulation and wished there wasn't such an emphasis on tutoring the children towards the tests.
"There is a danger that children get too much teaching, too much tuition, too much of an overload, for the best of motives, and that is to help the child," he said.
"But then learning becomes a chore and they get turned off as learners at a time when we should be trying to motivate and inspire them."
Many will agree with that sentiment, but the reality is that some parents believe children get a better deal at the grammar schools, and while the entrance tests remain, so will the push for places and the reliance on tutors and extra tuition.