Smithwick Tribunal hears crucial witness is 'dishonest'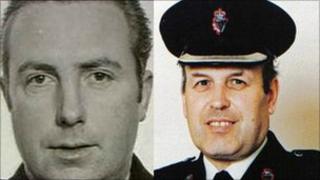 The Smithwick Tribunal has heard a former high-ranking Garda refer to a crucial witness as "dishonest".
Former Garda assistant commissioner Joe Egan said he did not regard Peter Keeley as reliable or trustworthy.
Newry man Mr Keeley, also known as Kevin Fulton, claims to have been a British intelligence agent who infiltrated the IRA.
He claims he and his IRA commander met a Dundalk-based Garda in a car in the town in the late 1980s.
In 1989 RUC officers Chief Supt Harry Breen and Supt Bob Buchanan were killed in an IRA ambush in south Armagh.
They had left Dundalk Garda Station only 20 minutes earlier. The Smithwick Tribunal is investigating allegations of Garda collusion in their murders.
At the tribunal on Wednesday, Mr Egan spoke of an encounter he had with Mr Keeley.
"What he conveyed to me to investigate was not correct and was misleading," he said.
Reluctance
He declined to reveal any details of what he was asked to investigate citing his reluctance to compromise state security.
Mr Keeley has yet to give evidence to the tribunal.
Mr Egan also told the Smithwick Tribunal it would only have taken the IRA up to 30 minutes to mount an operation of the type that killed the RUC officers.
The IRA ambush occurred at a 'blind spot' on the Edenappa Road, near Jonesborough.
"In those days mounting an operation at short notice would not have phased the IRA," said Mr Egan.
"At that point the IRA had a circus of people wanting to join, but if you got in you wanted to stay and deliver so you did not fail to turn up if the call came."
When asked about an individual known as 'Mooch' Blair, the Former Garda assistant commissioner said Mr Blair had come to his notice as a person he said was involved in terrorism and was very active in the north Louth/ south Armagh area.
When the Good Friday Agreement was reached, he said Garda intelligence suggested he did not go along with it.
Earlier Judge Peter Smithwick granted legal representation to Patrick Joseph Blair, known as 'Mooch' Blair.