Stormont report to slate £141m farm fund for slurry tanks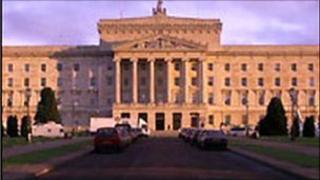 A hard-hitting report by a government watchdog slates a £141m grant scheme for farmers.
The scheme gave farmers money to build slurry tanks to reduce water pollution.
But a draft report from Stormont's Public Accounts Committee questions how much the scheme actually improves water quality.
It is expected to conclude that the scheme was poorly planned, badly managed and did not provide good value for money.
The draft report is due to be published in about three weeks.
The Pac report, which has been seen by the BBC, said there was no evidence to show how much the scheme actually improved water quality, leading it to question whether the scheme was necessary at all.
It will ask if a smaller but more focused scheme would have been more effective.
It is understood the report will describe the method used to value land at Crossnacreevy near Belfast as "astonishing."
The valuation was used by the Department of Agriculture to lever an extra £89m of public money for the scheme from the finance department at Stormont.