Man is charged with rioting in Ballyclare in July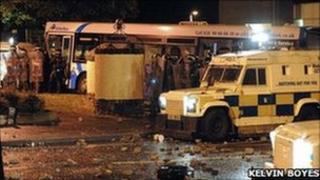 A 42-year-old man has been charged with rioting and other offences related to trouble in Ballyclare in July this year.
He was arrested on Wednesday and is due to appear at Belfast Magistrates' Court on 6 October.
Violence flared in Ballyclare in July after Union and paramilitary flags near a Catholic church were taken down.
Six officers sustained whiplash when a hijacked bus was used to ram a police vehicle.
Other cars were hijacked, set alight and used to attack police lines.
Police deployed water cannon and baton rounds were used after petrol bombs and missiles were thrown by loyalists.