Police widow condemns Orange Mass move on unionist leaders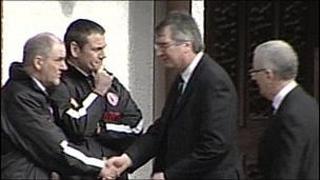 The widow of a murdered policeman has condemned the Orange Order ban on members attending Catholic funerals as "antiquated".
Kate Carroll was responding to news that two Ulster Unionists, including leader Tom Elliot, are to face disciplinary proceedings by the order.
It follows their presence at the Catholic funeral of murdered policeman Ronan Kerr.
Mrs Carroll said the men had attended Mass for her murdered husband, Stephen.
Constable Carroll was shot in Craigavon in March 2009 by the Continuity IRA. He was the first police officer to be killed since the formation of the PSNI.
Constable Kerr was killed by a car bomb outside his home in Omagh on 2 April.
Along with political leaders from across Ireland, Mr Elliott and Danny Kennedy attended Constable Kerr's funeral in April.
But, unlike other politicians present, both are members of the Orange Order and as such are forbidden from taking part in Catholic Masses.
Now, a formal complaint has been made by a lodge in Sandy Row, Belfast.
The complaint alleges Mr Elliott and Mr Kennedy "have sold their principles for political expediency".
Disciplinary hearings will now be heard, possibly as early as next month.
Mrs Carroll said she totally admired them for taking this stand. Speaking about their attendance at her husband's funeral, she said: "It was groundbreaking. I was delighted to see that people as prominent as them were there to show solidarity with police."
She said it was "extremely noble and brave" of them.
Former senior Orangeman, Reverend Brian Kennaway, said the disciplinary action was "an embarrassment" for the lodge.
"Multitudes of Orangemen through Ireland either attend marriage ceremonies or funerals. They see it as paying their respects and as their duty," he said.
"The vast majority of people, including the leadership are embarrassed by this."
Sinn Fein's Gerry Kelly said the Orange Order had "shown its true colours".
"By having these anti-Catholic rules the Orange Order is showing that it is clearly a sectarian organisation," he said.
"Attempts by the Orange Order to rebrand itself as a cultural organisation are completely discredited while they retain sectarian rules."
A source close to the two men said they had "no regrets" about attending Constable Kerr's funeral, that they did the right thing and they had no hesitation in giving support to the Kerr family.
The source also said they felt "no less orange or unionist" for having attended the funeral and they were annoyed that people could have the kind of mindset displayed by the lodge which made the complaint.