Smithwick Tribunal: 'High price' on RUC officer's head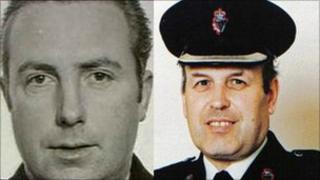 The Smithwick Tribunal has heard that there was a high price on the head of an RUC officer murdered in a border ambush in 1989.
Former Garda Commissioner Noel Conroy said that pictures of Chief Supt Harry Breen with an arms cache seized from the IRA would have created problems for him.
Chief Supt Breen was killed alongside Supt Bob Buchanan in south Armagh.
Smithwick is investigating allegations of Garda collusion in their murders.
Mr Conroy said he was told by colleagues in the years following the murders of the RUC officers that there was a high price on Chief Supt Breen's head.
However, as to allegations that any garda member colluded with the IRA in their murders, he said no evidence had ever been uncovered.
He said he was very surprised at early evidence given to the tribunal that Supt Buchanan had raised concerns about former garda Owen Corrigan and when those concerns were brought to an assistant garda commissioner they were ignored.
The former commissioner Conroy said if the RUC had concerns they would have been raised at command level and thoroughly investigated.
He said the relationship between the two police forces was excellent and there were a lot of people alive today as a result of that close cooperation.
Mr Conroy also told the tribunal that another former garda in Dundalk Leo Colton worked with a man known to be associated with the IRA when he retired from the force.
When asked if that information had led to an audit of what Mr Colton might have done when in the Garda, he replied that Mr Colton would not have been able to provide intelligence from the work he did.
Both Owen Corrigan and Leo Colton deny all allegations of collusion against them.
'Horrific bombings'
Later, the tribunal heard from Peter McGuire, a former head of Garda Special Branch, with over 25 years experience combating subversive crime.
He gave evidence as to the deadly efficiency of the IRA's south Armagh unit at the time of killings.
Mr McGuire said the south Armagh unit was the one chosen for operations abroad, and was responsible for "horrific bombings in London".
It had around six operational officers with up to 50 volunteers operational at any one time, he added.
He said the unit was capable of mounting a sophisticated operation within an hour.
Mr McGuire also said he never had "one iota" of concern about any Garda member in Dundalk posing a threat to the security of the state.