Developer Peter Curistan in Anglo legal challenge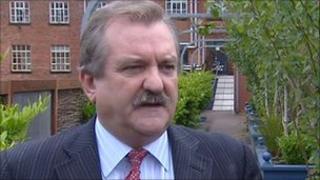 Belfast businessman Peter Curistan has launched a High Court bid to remove an administrator from one of his companies.
Mr Curistan is challenging the validity of the appointment made by Anglo Irish Bank to oversee the finances of Sheridan Millennium Ltd.
The firm ran part of the Odyssey entertainment complex.
He claims there was no need to bring in an administrator because the company has no current liability to the bank.
Mr Curistan, director of Sheridean Millennium, is seeking a declaration that the administration is invalid or unlawful.
Central to the case is a dispute over a financial guarantee allegedly now due.
Richard Shields, counsel for Mr Curistan, told the court: "The bank moved on 14 April to appoint an administrator in respect of an alleged debt in the region of £10.5m.
"He (Mr Curistan) says nothing is owed by this company."
Sheridan Millennium formerly owned a long-term lease on the Odyssey Pavillion area of bars and restaurants.
The proceedings, which opened on Thursday in front of Mr Justice McCloskey, form part of a wider dispute with Anglo.
It was set out that the administrator was appointed a day after Mr Curistan secured a High Court injunction, which stopped Anglo from winding up another of his companies.
Lawyers for Mr Curistan argued that judgment in that related case recognised there were genuine grounds for disputing the debt.
They claimed in legal papers that the administration should be restrained because Anglo has placed Sheridan Millennium in administration for "an improper motive".
The hearing, which is due to last for two days, continues.