UVF supergrass case: Stewart admits being 'nasty piece of work'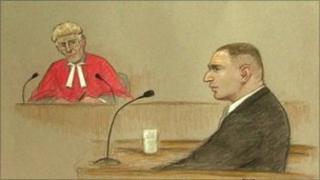 A witness at Belfast's supergrass trial has agreed with a defence lawyer that he was "a right nasty piece of work".
Earlier, Robert Stewart had admitted mistakenly putting one of the accused at the scene of a beating when he was actually in prison.
He made the error with regard to 44-year-old John Bond.
Stewart is testifying against 14 men, including alleged former UVF commander Mark Haddock. Nine are accused of murdering UDA man Tommy English.
Counsel for Mark Haddock, Frank O'Donoghue has completed his cross examination of the witness.
When questioned by a second defence lawyer, Barry Macdonald, QC, Stewart said he had been "a rotten egg at times" but denied being "corrupt to the core".
Mr Macdonald also produced new evidence about the day Mr English was murdered.
The police had seen his client David "Reggie" Miller leaving and re-entering the Mount Vernon estate twice within 10 minutes at a time when Stewart said the accused was six miles away in the New Mossley estate helping to plan the murder.
Questioned about his motivation for going to the police, Stewart said when he did so he had been a "terrorist for 14 years", but said "there was no shining light that came down".
He denied that he had only given himself up to police because he was "on the run from the UVF and saw a way out".
"There's no house in Malibu, if that's what your asking... I haven't gained anything," he added.
Stewart claimed the turning point in his life came as he held a taxi driver hostage and heard the siren of an ambulance rush by on the night Mr English was shot dead.
Mr O'Donoghue had started questioning Stewart more than a week ago.
He told the witness: "Your evidence is replete with irreconcilable contradictions and downright lies."
Stewart rejected the claims.
Earlier, the lawyer questioned Stewart about UVF punishment beatings.
The witness admitted that he did not always have a clear memory of exactly what happened.
Halloween murder
Mr English was shot dead in front of his wife at his home in the Ballyduff estate in Newtownabbey on Halloween night in 2000, during a feud between the UDA and the UVF.
Both the UVF (Ulster Volunteer Force) and UDA (Ulster Defence Association) are loyalist paramilitary groups responsible for the murder of hundreds of people during the Troubles.
The trial is the biggest and most expensive to be held in Northern Ireland for many years.
The 14 defendants are being represented by 24 barristers and eight firms of solicitors and the trial is expected to last for 11 weeks.
The term supergrass was first used in Northern Ireland in the 1980s when a number of terrorist suspects were convicted on the evidence of former comrades.