Orange Order does itself few favours over Kerr funeral complaint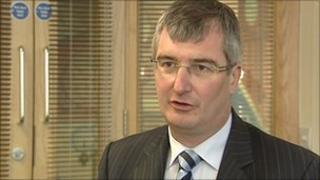 The Orange Order is big on stressing its commitment to "civil and religious liberty for all".
Unless, that is, you are a member of the self same Orange Order who wants to attend a service in a Catholic church.
Like political leaders from across Ireland, Tom Elliott and Danny Kennedy went to the funeral of murdered Catholic police officer Ronan Kerr in County Tyrone in April.
But unlike the other politicians they are Orangemen and some of their brethren, as Orangemen like to address each other, took offence.
At the time the leadership gave an albeit cryptic signal that they had no problem with the two men attending the funeral.
But in the loyalist heartland of Sandy Row - not far from Belfast city centre - the members of St Simon's Church Total Abstinence Loyal Orange Lodge 821 soon made clear they weren't speaking for them.
In any other organisation a single complaint from one small group, or in this case lodge, out of more than 1,200 could be easily dismissed.
But this is the Orange Order. And the rules state that where a formal complaint is made about other members, disciplinary proceedings must begin.
And so it is that the Ulster Unionist leader Tom Elliott and his party's sole minister in the Northern Ireland Executive, Danny Kennedy, now face the prospect of having to appear before fellow Orangemen to argue why they attended the funeral of a murdered policeman.
It's a development which has dismayed many people in Northern Ireland and well beyond. It has even prompted a question in the House of Commons.
But rules are rules and the Orange Order are now paying the public relations price, whatever the eventual outcome.
In the court of public opinion, even on the streets of Sandy Row, it appears few believe the two politicians did anything wrong.
Even in the arcane world of the Orange Order the position is arguable.
The "Qualifications of an Orangeman" state that a member should "scrupulously avoid countenancing (by his presence or otherwise) any act or ceremony of Popish worship".
But the actual rules of the Orange Order say they should avoid "participation in a ceremony of worship not of the Reformed faith".
Whether by attending Ronan Kerr's funeral mass the pair were actually "participating" in it is a moot point.
But, nonetheless, it could be an important deciding factor when their Orange peers come to pass judgement.
Of course, to the outside world that is an irrelevance.
To most people the Orange Order could probably do itself an enormous favour by ditching an outdated rule about members attending Catholic services.
After all, many Orangemen already ignore the rule anyway and attend the funerals and weddings of Catholic friends and acquaintances.
Even former Ulster Unionist leaders have done so in the full glare of publicity without any censure.
But while the rule exists it can still be exploited as Tom Elliott and Danny Kennedy are now finding out.
The Orange order has its roots in 1795 and is wedded to its traditions.
It's an organisation which tends to react badly to outside pressure.
On this issue it may just have to bend - or suffer the consequences.