Police officers injured as bomb thrown in Newtownabbey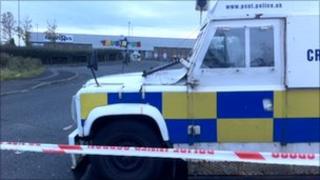 Two police officers have been injured after a bomb was thrown at them as they responded to an alarm call at business premises in Newtownabbey, County Antrim.
It happened near Toys R Us on the Mill Road at about 00:20 BST on Friday.
The police officers' injuries are not thought to be life-threatening.
Chief Constable Matt Baggott condemned those reponsible for the Newtownabbey attack and bomb attacks in County Londonderry on Wednesday.
A police officer and a retired doctor who works as a forensic medical officer were targeted near Claudy in the earlier incidents.
"These people not only threaten the lives of police officers and those who work alongside us, they also endanger the lives of members of the public," he said.
"Reckless attacks such as these reinforce the danger caused by these people and we will do everything in our power to keep communities safe and bring them to justice."
'Steadfast determination'
PSNI Chief Inspector Derek McCamley described the attack Newtownabbey attack as "despicable" and said it was "fortunate that no-one was more seriously hurt".
He said the device was thrown and exploded as the police approached the building with two members of staff from Toys R Us.
"We have launched a full investigation and will carry out an examination of the scene," he said.
"There has been some speculation about who is behind this attack however it is much too early to say, we will follow all possible lines of enquiry.
"I have spoken with my officers this morning and have been struck by their steadfast determination to continue providing the personal, professional and protective service the community want and deserve.
"Those behind this attack are cowardly individuals who only seek to bring devastation and harm to their own community.
"We will not be deterred from our job of keeping the community safe."
The two Toys R US staff members were treated for shock.
People living close to the scene of the attack had reported hearing a loud bang, but said they thought it was fireworks.
Brutality
Brian Rea, chair of the Northern Ireland Police Board said the officers were intentionally brought to the area.
"To deliberately lure police officers to a business premises in the early hours of the morning with the sole aim of seriously injuring or killing them is a despicable act," he said.
DUP MLA Paul Girvan said he also believed the call-out was an attempt to bring police to the scene.
"This does appear to be a tactic that is used by dissident republicans to bring police attention into the area and used as an opportunity to attack security forces," he added.
"I would have to condemn it and implore anyone who has information to volunteer that to the PSNI."
Mr Girvan said the situation "could have been a lot worse".
"We are thankful the injuries are not more serious," he added.
The mayor of Newtownabbey, Billy Webb, said he was "absolutely appalled at the brutality" of the incident.
"We owe the police massive gratitude for the courage they show in their work and they should be allowed to go about their vital work without fear of attacks like this," he added.
Sinn Fein councillor Gerry O'Reilly said people were "shocked and surprised" at the attack.