Pipe bomb left at car wash facility in Derry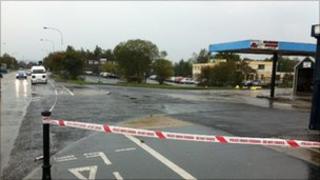 Politicians in Londonderry have condemned those responsible for leaving a pipe bomb at a car wash in the city.
Army bomb experts were called to the Racecourse Road at about 21:55 BST after reports of a suspicious object. It was later confirmed as a "viable pipe bomb type device".
Three masked men, travelling in a silver car, were seen in the area at the time.
Police have appealed for information.
SDLP Foyle MLA Collum Eastwood said masked men and suspicious devices "were not what the people of Derry had voted for".
"This was a sinister incident. Although the full details of it are yet to emerge, coming just days after attacks in Claudy, people in the area are fed up with this."
Sinn Fein councillor Tony Hassan said those involved should explain their actions.