RUC chief was 'warned about comments at Dundalk Garda Station'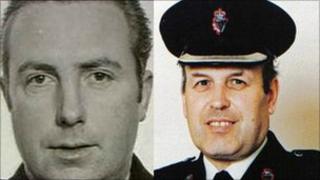 A former RUC chief inspector based in Newry has told the Smithwick Tribunal he was told to be careful about who he spoke to when in Dundalk Garda Station.
Witness 33 was the first RUC officer on the scene after two of his colleagues were murdered by the IRA in a border ambush in 1989.
He identified the bodies of Chief Superintendent Harry Breen and Superintendent Bob Buchanan.
They were killed after leaving a meeting in Dundalk Garda Station.
The witness said there were general discussions following the murders that there could have been a tip-off either internally or from the gardai or a civilian working in the police station.
He said he had been advised on a couple of occasions to be careful who he talked to at the building.
The tribunal heard he was told this by both a garda inspector in the station and his fomer RUC sub-divisional commander, witness 27, who specifically mentioned by name Sergeant Owen Corrigan.
However, he agreed that the warning to be careful could have had all sorts of meanings.
Mr Corrigan denies any allegation of collusion against him.
RUC officers Chief Supt Harry Breen and Supt Bob Buchanan were killed in south Armagh.
They had left Dundalk Garda Station only 20 minutes earlier. The Smithwick Tribunal is investigating allegations of Garda collusion in their murders.