Facebooked! MP's daughter catches him napping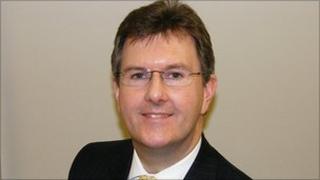 DUP MP Jeffrey Donaldson has been well and truly Facebooked.
People are queueing up to visit him on the social networking site.
He now has nearly 5,000 people on his friends' list. And he owes his new found popularity to the young woman on a train who nicked his identity while he snoozed. It was his daughter, Laura.
"We were taking her back to university and travelling on the train. Being the dutiful MP, I was on Facebook and connecting with my constituents.
"But then I fell asleep," he explained.
Laura managed to get on to his Facebook and post a status to the world that her dad was snoozing on the train. She also took a few photographs of the sleeping MP.
"She could not work out how to post them on Facebook. At least I was spared that. They were not edifying," he said.
Requests to share them with the world via the BBC website were steadfastly refused.
"Not a hope," he said.
Posting as her father, Laura wrote on Facebook: "I love my daughter Laura so much. She is class. Secretly I wish I could be half as much a legend as her. I also love falling asleep on the train with my i-Pad in my hands and leaving my Facebook logged in. Lush."
Her father saw the funny side. Laura clearly has a future - either in publicity or as a comedian.
"A few people suggested that I should make Laura my PR person. They said it was probably the best PR I have had in years," he joked.