Big Dessie is Northern Ireland's 70-year-old lobster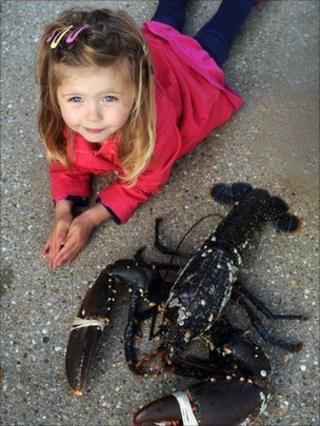 He is 70 years old and weighs in at 11lbs - just like a big bouncing baby.
Dessie is Northern Ireland's largest lobster.
The crusty old crustacean gave fisherman Michael Hassan quite a shock when he hauled him in at Skerries off the coast of Portrush, County Antrim, at the weekend.
In 25 years of fishing, he had never seen a lobster as large as this.
The large lobster was caught in a lobster pot - the fisherman said he was so huge, it was hard to know how he had ever got inside.
He is more than 2ft long, measures 13in around the middle and a marine biologist has examined him and believes he is about 70 years old. It was incredible that he had survived in the waters for so many years, said Michael.
"He is very docile and barely moves because he is out of the water. In the water it would be a different thing. If you were stupid enough to put your hand into his claw he would break the bone," he said.
The lobster was nicknamed Dessie.
The thought of selling the lobster off to be eaten just never arose.
"I've been told that a good lobster dinner would cost you £30 and there are 10 lobster dinners in that lobster," he said.
"But I wouldn't do that. Anyway, I'd say a lobster that age would taste as tough as old boots."
Instead, the lobster is going to the national aquarium in Galway.
The Exploris aquarium was unable to accommodate the lobster because of its filtration system, Michael explained.
"Galway were more than happy to take him. But it is a five-hour drive down and we want to make sure that he is fine when he gets there."
Michael Hassan's daughter, Maisey, 3, will miss her new friend. She isn't much bigger than Dessie and was amazed at him.
"She loves all things crustacean," said her father.
Now, the Hassan family hope that Dessie the lobster lives out his final years in comfort.
"Having survived for 70 years, it would have been a sad thing indeed just to throw him into a pot of boiling water," said Michael.