UVF supergrass case: Stewart admits Miller speech mistake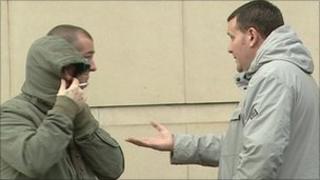 A key witness in Belfast's supergrass trial has admitted he was mistaken in evidence about whether one of the 14 accused had a lisp.
On Friday Barry Macdonald, representing David "Reggie" Miller, continued cross-examining Robert Stewart.
Stewart is testifying against 14 men, including alleged former UVF commander Mark Haddock.
He testified that he recognised the voice of the masked man who swore him into the UVF as that of Mr Miller.
He said he did so as Mr Miller had a pronounced speech impediment, a stutter or a lisp.
When Mr Macdonald put it to Stewart that Miller had no such impediment the witness replied: "If you say he hasn't one, he hasn't got one."
He continued by way of explanation that at the time of his first police interviews he was locked away in a room for eight weeks filling out forms while he was still on drugs.
Mr Macdonald suggested to the witness that he had never met Miller, because if he had he would know the defendant had no stutter.
It was a suggestion that Stewart rejected.
On Thursday, Stewart admitted he had mistakenly put one of the accused - John Bond - at the scene of a beating when he was actually in prison at the time.
On Friday, Stewart said he was sure that Mr Miller had been at a flat in the New Mossley estate in Newtownabbey where the murder of Mr English was planned.
The court heard on Thursday that the PSNI had seen Mr Miller in another area six miles away around the time Stewart had said he was at the planning meeting.
But on Friday Stewart insisted Mr Miller was present at the flat claiming he may have been "in and out" several times during the afternoon.
Just before lunch, Stewart who is testifying along with his younger brother Ian, said he was tired.
"It's been a long week. I didn't get much sleep last night and I don't want to say something I didn't mean to say," he said.
The trial has been adjourned until Monday.
Halloween murder
Nine of the accused, including Haddock are accused of the murder of UDA man Tommy English.
Mr English was shot dead in front of his wife at his home in the Ballyduff estate in Newtownabbey on Halloween night in 2000, during a feud between the UDA and the UVF.
Both the UVF (Ulster Volunteer Force) and UDA (Ulster Defence Association) are loyalist paramilitary groups responsible for the murder of hundreds of people during the Troubles.
The trial is the biggest and most expensive to be held in Northern Ireland for many years.
The 14 defendants are being represented by 24 barristers and eight firms of solicitors and the trial is expected to last for 11 weeks.
The term supergrass was first used in Northern Ireland in the 1980s when a number of terrorist suspects were convicted on the evidence of former comrades.