Low cost 'pop-up' apartments coming to Belfast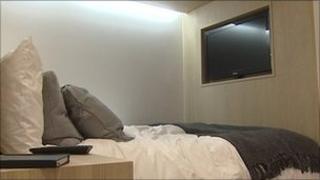 Belfast's skyline doesn't boast too many cranes these days.
The construction boom is over and we're left with a glut of unwanted and over-valued property. Much of it apartments.
So it would be a very brave developer who would build in this market and a very brave buyer who would part with their cash.
Basic economics tells us price is a function of supply and demand. When demand outstripped supply back in 2007, the average price of an apartment in Belfast topped £213,000.
But more recently with demand at an all-time low, that price has slumped to £126,000.
But could demand return if prices dropped to the right price?
Developer, Alan Fraser of the well-known Fraser family, has come up with an idea he's hoping will do that trick.
It's smaller than anything we've seen before, but comes with that smaller price tag too.
It's a 350 square foot apartment in the city centre that's made for one - maybe two maximum - for £80,000.
And like those ads on television for gadgets that might change you life, there's more.
Surprisingly positive
Instead of the steak knives, these guys are throwing in furniture, televisions, and an iPod dock as part of the price.
My impression from a sneak preview of the "pop-up" apartment they've constructed to try and sell the scheme was surprisingly positive.
From a design point of view, it's attractive and refreshingly honest. There's no attempt to hide the smallness, but the open-plan design is functional.
The built-in furniture has been contracted to local firm Terry Furniture of Portadown.
Could you swing a cat in this place? The answer comes when you open the kitchen cupboard and find it stuffed with Whiskas. At least they have a sense of humour.
There's no room for a washing machine - instead there will be a communal laundry area. And they're leaving room for a small gym too, and ground floor coffee shop.
Would it suit a family? No. Might it suit a student, commuting businessman, or young professional? Perhaps.
If you're the sort that doesn't plan to spend a lot of time lounging about at home, but do spend a lot of time at work or out socialising then this concept may be for you.
No wonder restaurateur Michael Deane is quoted in publicity material backing the scheme - Belfast city centre could do with more people prepared to spend more time from home and more money in the shops and restaurants.