Three children were in house during Meigh robbery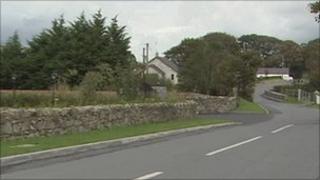 Two children and a baby were in a house in south Armagh when it was robbed by five armed masked men at the weekend.
The incident took place at around 21:35 BST on Friday at Low Road in Meigh but details have just emerged.
A 30-year-old man inside the house sustained facial injuries in an assault and was forced to hand over a sum of cash.
The intruders then made off in a stolen car. The children were two 13-year-old girls and a 10-month-old boy.
The mother of two of the children was also approached by the men outside her home and forced inside.
The stolen silver Mercedes Viana was found abandoned in the Omeath area on Saturday.
Sinn Fein councillor Packie McDonald spoke to the family shortly afterwards.
He said they told him the men were armed and the husband had been hit in the face with a gun.
"They all had guns with them - all five of them - and they were in the house for an hour, so it certainly was a big ordeal for both parents and the chilldren, who had to sit through it and watch their father being beaten," he said.
Elsewhere, an 88-year-old woman was in her home when it was burgled on Saturday night.
At about 22.30 BST a flat screen television and a sum of cash were taken from the house in Ashtree Grove in Whitecross, also in County Armagh.
SDLP Dominic Bradley said it was a "despicable crime perpetrated on a lady who has long served the community and who, indeed, has suffered much in her life.
"Thankfully the victim was not injured," he said.