Chinese community centre to open in Belfast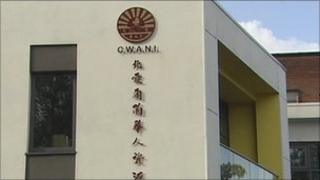 The Chinese Welfare Association in Belfast will officially open its new premises in south Belfast later.
£1.3m was raised from business, government and local people for the education and resource facility in the south of the city.
Chief executive Eileen Chan Hu said they had been fundraising for over 14 years.
"We did have a shortfall running up to the last stretch," she said.
"There are local books for people of Chinese history and culture so people will know more about the Chinese community here."
The centre, on Stranmillis Embankment, also has a conference room, a crèche and an after-schools club.
Belfast Mayor, Niall O Donnghaile, said the centre was an important addition to the city.
"This facility will play a vital part in the life of our city by embracing of all aspects of social and cultural diversity. I applaud the efforts of everyone who has helped make this vision a reality," he said.