Shark caught during Strangford Lough fishing trip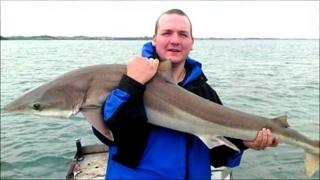 One man certainly had the catch of the day on Thursday evening when he caught a 5ft tope shark.
Sammy Garrett from Comber was on a boat on Strangford Lough when he landed the 46lb fish.
He managed to take a few photographs with the protected species before returning it to the water.
Mr Garrett said tope sharks are native to the area, but are an extremely rare catch.
"I go fishing at every free opportunity, but the biggest thing I have ever caught before is a pike," he said.