Poleglass residents call for action over stolen manhole covers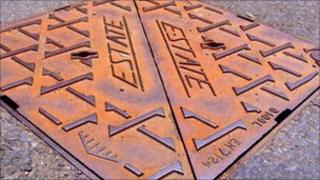 Residents in Poleglass are again calling for action after 22 manhole covers were stolen last month and not replaced.
It is thought they were taken for scrap metal.
Northern Ireland Water has said the site, at Sally Gardens, is on private land and it is up to the owner of the property to replace them.
Michael Willis, who runs a youth centre nearby, said something needed to be done for the safety of children.
"Some of the younger ones think it is fun to either climb down them or run around them in the dark," he said.
"They think this is a game, this is great, there are little ladders here you can climb down and you can hide from your friends.
"They don't realise how dangerous it is."
At the end of August, thieves broke into the grounds of the Sally Gardens Community Centre and ripped the manhole covers up from a pitch on the grounds.
Northern Ireland Water said they had recently visited Sally Gardens following reports of missing manhole covers in the area.
"Upon inspection, NI Water established that these manholes were privately owned and therefore the responsibility for replacing them lay with the owner of the premises," they said in a statement.
"However, in the interests of health and safety, staff put in place temporary covers.
"NI Water would like to highlight the dangers of playing down or near sewers.
"The depth of some sewers can be up to eight metres and if someone were to fall in and become injured, they may not be able to pull themselves back out.
"There is also the danger of fast flowing sewage or stormwater making its way through the pipe."